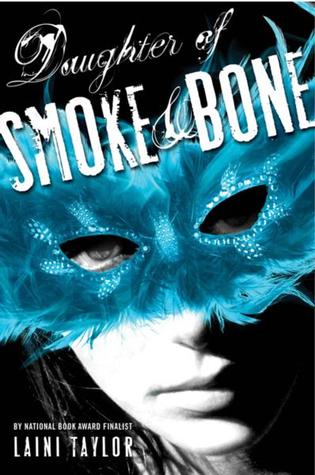 Title: Daughter of Smoke & Bone (Daughter of Smoke & Bone #1)
Author: Laini Taylor
Genre: Urban Fantasy, Paranormal, YA
Release Date: September 27th 2011 by Little, Brown Books for Young Readers

Summary:  
Around the world, black handprints are appearing on doorways, scorched there by winged strangers who have crept through a slit in the sky.
In a dark and dusty shop, a devil's supply of human teeth grows dangerously low.
And in the tangled lanes of Prague, a young art student is about to be caught up in a brutal otherwordly war.
Meet Karou. She fills her sketchbooks with monsters that may or may not be real, she's prone to disappearing on mysterious "errands", she speaks many languages – not all of them human – and her bright blue hair actually grows out of her head that color. Who is she? That is the question that haunts her, and she's about to find out.
When beautiful, haunted Akiva fixes fiery eyes on her in an alley in Marrakesh, the result is blood and starlight, secrets unveiled, and a star-crossed love whose roots drink deep of a violent past. But will Karou live to regret learning the truth about herself?
This book is one of those that catch attention right away and I first want to point out that I do love this book but maybe not as much as I wanted too. Everything about this book screamed "read me"The cover and the summary really had me from the beginning. I think really all it was that didn't have me fully loving it was I just felt disappointed in the plot I wanted more but didn't get that, But I also have to remind myself it is a series and that I will hopefully get what I felt was missing in the story.
There is a lot of moments that did have me yawning a few, but right after the boring and dull you will get to boost of the plot that makes you in an intense read, all excited once again. The book does have its minor flaws but really it wasn't much and the story was still really good. I really loved the concept of the story and hopefully after I get out of my whole reading slump I been in and I will get to finish this series cause I am sure the story gets better.
What I really liked about the story was the whole spooky and creepy vibes you get reading the story, it's has a lot of those elements with demons and whole darker world mix in with ours, I really love stories that take that level and this story does that. I liked whole artistic the writer was with it and how different the book feels compared to other books. To be honest it's one of those stories that you just can't compare, trust me I tried and just can't.
Like most YA books there is romance and this one has a lot of it. Sometimes it can come kinda on the cheesy lovey dovey level but it's just fits with the story and helps a lot with the plot of the story some what. I would have liked less of the cheesy tho. I always been the reader who likes there to be romance but I just want more of the action and chaos more. With this book the romance does come off quick, the insta-love stories seem to do lot in YA. But I got to the point where I am getting used it. But the more the story goes the more it gets complicated and you know blah blah and what not.
I didn't really connect with the characters at first but by the end of the story I short of became more obsessed with them. I do love the characters in the story and like the story, the characters are very unique. The writer does a good job at making the characters to stand out. Smoke & Bone is in a 2 person point of view story you don't just read about Karou. You get to read about other characters and what they are somewhat going through, Karou is still the  main focus point in the story.
There is a lot of mystery in the story, and the whole mystery following Karou, reading the story from the beginning  you really don't know much about where Karou came from or who she really is but you find out more as the story continues  deeper. Her back story I did found really unique and interesting and you found out why Karou and Akiva are connect and you kind get this whole "Mind Blown" feeling. 
Like I have said I really did like the story but there was some parts that was dull and I couldn't help but feel like there was something missing in the story and I wouldn't have mind less of the cheesy stuff. But really besides all that the story is great and I do hope once I read the whole series I will really completely fall in love with the story.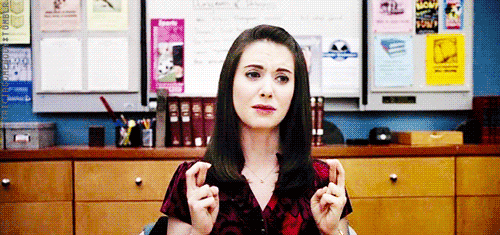 I 100% recommend this book and I have t00 many friends of mine and they loved it way more then I did so I know who reads my review will to, please read this book and ignore my negativity I have for this book because There is a lot more to the story and It is good and the flaws are really minor.
 Title: Win the Rings ( Win the Rings #1 )
Author:  K.D. Van Brunt
Genre: Urban Fantasy, YA
Release Date: March 7th 2014 by Evernight Teen

Summary:  
Jace has been the property of the U.S. Army since they found out about her when she was five, and now she has become one of its most valuable weapons. But Jace is not the only one of her kind. Gray is one too, but with the help of his sister, he has spent most of his sixteen years hiding from the Army. Now, the Army has found out about Gray and they cannot allow him to roam free. Operating on the theory that it takes one to catch one, Jace is send out with a special ops squad to hunt Gray down. But Jace is not the only one pursuing Gray, and the competition is after her too. What ensues is a desperate chase through city after city as duty and honor collide with love and sacrifice.
https://www.youtube.com/watch?v=fNMk5OMYji8
I was giving this book by the Author for an honest review. I want to thank the author for giving me the chance to read the book.
What made me really interested in this book was the concept of it. I like stories that are different and unique and this one definitely is. The story is about Human shape shifters. Some are on the run and others taken by the government. they test them when they are younger and thrown into the army….pretty much a prison. I was really pulled into the story. I haven't read a book like this. 
What I didn't really like about the story is that it would tend to drag on with the unimportant parts. The plot of the story does start off slow. There is a lot of details in the book, for the most part it did really help with following along with the story but some parts I felt like it could get a little boring.
I had a love/hate relationship with the characters. I liked them but didn't really feel like they stood out to me. Jace is a girl who can probably kick my ass, she has a really strong personality but I couldn't really connect with her all that much. Gray was my favorite. He was silly and tends to look weaker next to Jace but he knows how to get out of a sticky situation. He was what made the story interesting to me. But I would also find myself really annoyed at him a lot..
Gray and Jace have two completely different personality's but it works or them. Tho they start off on a bad foot. Jace is pretty much Grays enemy. When they first meet you see the story moving along faster to the plot.
This is one of the stories that start off slow but get faster along the way and the ending wants you to read more. Overall I really did enjoy the story the parts I didn't was only minor compared to the full story. I can't wait to read more of his future work. 
If you love YA Science Fiction this book is for you. Also Check out the prequel The Demler Incident.
ABOUT THE AUTHOR:
I was raised in Southern CA and Seattle and came east to Boston to go to school, before drifting down to Wash, DC for work. I now live in Maryland, work in DC, and write in whatever Starbucks I can find nearby. What time I have when not writing, working or reading, I like to cook and hang out with my standard poodle, Buffy (now who do you suppose I named her after?) I like fast cars, hockey, long drives and hiking. Short term goal: finish my trilogy. Long term goal: support myself writing.
Connect with the author:

 *Giveaway*
One winner to Win "Win the Rings" by K.D. Van Brunt.
You must be a U.S Resident.
Click here here for more info –> Giveaway Policy
This is hop is meant to feature a book you just couldn't put down.  This giveaway hop is hosted by StuckinBooks
I thought hard about what books I would choose and since TMI series a huge favorite of mine and I happen to have extra copies, I said why not. It is a definitely a series I couldn't just put down. A series I know people love. For this giveaway hop I giving away City of Fallen Angels or City of Heavenly Fire by Cassandra Claire to one US winner.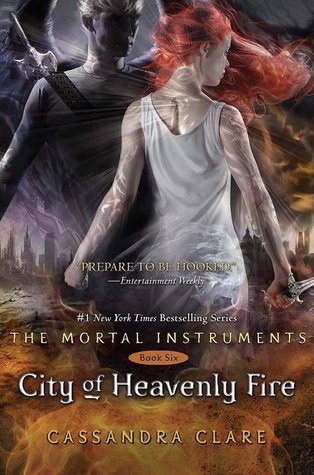 *Giveaway*
Please visit this link on my giveaway Rules –

Here